Client Challenge
A large midstream terminal in the Gulf Coast needed a solution to reduce the cost and time to degas a large 188' diameter internal floating roof crude oil tank during tank maintenance activities. The tank degassing process included vapor control during the roof landing, draining, and blinding process followed by manway degassing to bring the tank interior to below 10% LEL in accordance with their TCEQ permit requirements. The client's tank degassing vendors had used large amounts of propane during previous tank degassing projects.
Vapor Point Solution
Vapor Point provided the client with our high flow 20 MMBTU thermal combustion unit to reduce the cost and degassing timeframe. Vapor Point's combustion technology allowed lower operating temperatures (800 ° F) instead of previous vendors 1400 ° F operating temperature to save the client 40% on propane usage, equating to a cost savings of $1,000s per day.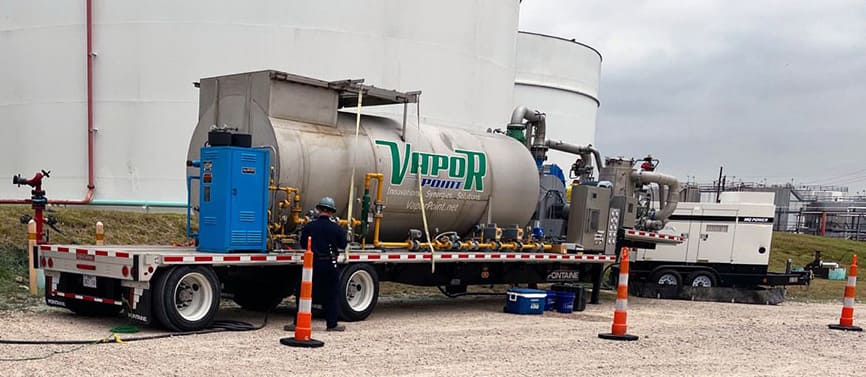 Vapor Point Results
Vapor Point completed the 188' diameter crude oil tank in 7 days while the previous degassing company took 30 days! The tank degassing project resulted in more than a 75% reduction in costs as a result of Vapor Point's degassing service. Reducing the degassing time and propane usage resulting in lowering CO ₂ and GHG emissions by over 80%!